It wasn't until James Joyce left Ireland that he wrote Ulysses and Dubliners, classics that embed themselves in the topography of his island home. He did so, says Jonathan Anderson, "via not being there, but meticulously being there," tracing Dublin's streets like a palm reader delineating not the future, but the past. Sometimes, Anderson says, "you have to run away from something to appreciate it."
Anderson himself grew up splitting time between Northern Ireland and Ibiza. "The great thing about an island is you want to get out," he says. Having the Troubles as the backdrop to your childhood, "you realize you take everything for granted. Everything can be very fragile," he recalls now, running a rope-braceleted wrist through his tousled dirty-blonde hair. At the same time, "It's so beautiful. Everything is gray, so colors really pop. Whereas in Ibiza you've got blue skies, and everything becomes harmonious with each other." In a Joycean turn of events, when Anderson decamped for London, he became freer to tell his own story. And storytelling, he says, is what "fashion ultimately is about."
Anderson first drew acclaim for his line JW Anderson, which won him a British Fashion Council nod as an Emerging Talent–Ready to Wear, in 2012. The following year, he was tapped by LVMH to run the Spanish house of Loewe. A decade later, Anderson is a veteran by fashion standards. And like a writer operating at the height of his powers, he is creating more fanciful, relevant, and talked-about collections than ever.
BEAUTY TIP: Smell like nature with Loewe Earth Eau de Parfum, a blend of violet, mimosa, pear, truffle, elemi, and amber notes.
Take the Loewe spring 2023 show, which actress Taylor Russell opened in a dress with panniers, a silhouette Anderson has been experimenting with that's meant to resemble the aerial view of a menswear jacket. The digital world crept in as well, in the form of pixelated video-game looks. So did nature, symbolized by hyper-realistic anthurium blooms, as alluring as they are poisonous—as seen in the sandals worn in this story by model and Loewe friend of the house Jeanne Cadieu. (The collection spoke to "our two dilemmas," he says. "How do we deal with technology, and how do we deal with the environment?") He liked the idea of starting with something romantic "and then suddenly, bam! There's a glitch." It wasn't necessarily what people were expecting, but it turned out to be what they wanted. His clothes, says his friend and collaborator, the model and actress Hari Nef, "anticipate an appetite."
Despite the pressure to reinvent the wheel every season, his collections often feel like chapters in a series—a JW cinematic universe of sorts. In Loewe's fall 2022 collection, dresses and shoes came ornamented with faux balloons that appeared semi-inflated; for spring 2023 they were real, and deflated, resembling crushed petals. "I think it depends what mood I'm in or how bored I'm getting," he says of these recurring motifs. "Sometimes I get bored very quickly; sometimes I'm like, 'Oh, I'm not done with this process yet.' " He admires Issey Miyake and Rei Kawakubo, who worked long enough to have distinct eras, à la Picasso's Blue Period. And he mentions an obscure Irish painter, Paul Henry, who restricted himself to painting cloudscapes and landscapes. "There's something I love about that. I wish I could just only put out one thing."
Anderson is unabashedly intellectual—referencing not just Joyce but the poet Seamus Heaney (Anderson's onetime neighbor), artist Paul Thek, and ceramicist Lucie Rie practically in one breath. "Jonathan is not an ivory-tower, tortured-creative couturier with nothing but a dress form and a pair of scissors," Nef says. "Jonathan is a cultural omnivore. He watches everything. He goes to every exhibit. He reads everything. He's constantly metabolizing everything he finds cool: art; television; fashion, both contemporary and archival; books; films. And he makes them into clothes." Despite the high-minded references, Anderson's work is always leavened with playfulness. "I can overintellectualize things, but at the same time, there is nothing better than good comedy," he says. During the height of the pandemic, Anderson began experimenting with play in a more literal sense, creating a hyper-analog "show in a box" for spring 2021. "I'm the kind of person who will not stop unless the world is stopping, unfortunately," he reflects. "It made me feel young again somehow. I felt like I had lost all inhibition. I didn't care what the industry thought anymore, what journalists or students thought of what I was doing, because I felt like everything could have gone [away] anyway." Pre-2020, "I was a bit more closed as a designer. Probably more difficult, maybe. The pandemic helped me reconnect to myself and why I do this job."
Even when he's referencing video games, there's a purity to Anderson's work that feels antithetical to contemporary fashion's postmodern, Easter egg–strewn, viral-at-any-cost mania. His perspective seems unmediated by the endless scroll of social feeds. As he unspools his allusions, I find myself thinking how few thirty-something designers would be so eager to talk about James Joyce or curate exhibits of Henry Moore sculptures. Anderson seems to be striving for modernism, living by the "Make it new" edict that something wholly distinct can be created out of nothing.
When he talks about Miyake—the two shared a correspondence but never met—Anderson points out that he was never a showman. The clothing was always the main attraction. Today, "we are more interested in the overall bombasticness of something, which can be a problem," he says. "We're starting to see a crumbling of things that we held up so highly, but ultimately what do we do with it? Because media is going so fast; the consumer is digesting and spitting it out. They will build it up and break it. I think this is why continuity is becoming more and more important. And actually, there is nothing more exciting than the low profile-ness of something."
Anderson takes continuity seriously. When he joined Loewe nearly 10 years ago (he can't believe it's been that long either), he took a year "to work out how [someone of] my generation would tackle redoing a brand about classicism, about making, and less about trend," he says. He was drawn to its timeless quality, he says. "We could do fun and wild things that get picked up, but what I set out to do was build a foundation. Loewe has a very important history that needs to be protected, but at the same time needs to be current." His namesake line, as he sees it, "agitates culture, whereas Loewe is about solidifying it, somehow."
One thing he did to fuse past and present was establish the Loewe Foundation Craft Prize in 2016, anticipating fashion's Luddite return to craft by a few years. Anderson has also made it a point to collaborate with artisans, most recently as part of the exhibit Weave, Restore and Renew at the Salone del Mobile, which showcased the work of Spanish and Korean artisans. Without craftspeople, "it would be harder for me to create, because I need the sounding board of, 'Oh, you can do that.' Or, 'Wow, I never thought of it that way,' " he says. "It is a great way to escape from fashion, to get outside of the bubble of it."
Another Anderson design trademark has been gender fluidity. His namesake line "started off with this idea of a shared wardrobe. I was doing it in a moment when no one was talking about it," he says. "Five years later, it was a trend." He once found himself in a drag bar in Boston with Nef, who told him how important seeing the collections on the now-defunct Style.com was to her as a fashion-obsessed teen. Those early shows, Nef tells me, "felt so electric and unprecedented, even through a screen." Particularly the JW Anderson fall 2013 menswear show, which featured frilly boots and tunics in corporate gray wool: "I'd never seen clothes that had this vocabulary before, that frankly were existing in an in-
between place in terms of menswear or womenswear. It really conked me over the head in terms of how it was possible to dress."
Anderson will soon be taking on another title, that of costume designer. He's collaborating with his friend Luca Guadagnino, the Italian director of Call Me by Your Name, on the upcoming film Challengers, starring Zendaya. Set in the recent past, "it's not theatrical at all, which was actually really challenging. Because you are trying to make something look as real as possible," he says. "I wouldn't do this for anyone else, bar Luca. But I really enjoyed it. It made me appreciate every single costume designer in film."
Of course, that's on top of doing more than 13 collections a year. I ask him how he staves off burnout. "You always think you're going to burn out. Every time I do a collection, I feel like I'm about to lose everything," he says. "I think that's how you prevent it: by thinking you could lose everything. Every time, I feel like, 'Are we going to lose momentum? Are we going to lose the audience?' Because fashion is fleeting, ultimately. We love brands for a certain period of time. I'm quite surprised that we still have the support. Maybe I've gotten better with age."
Fittingly enough, when we speak, he's planning a visit back to where it all began: the land of green and gray where, he says, you never leave empty-handed. "I will probably leave with a suitcase of food. It's as if my parents are worried I'm going to go starving," he says, adding, in the understatement of the year, "even though I'm doing quite well on my own."
This article appears in the March 2023 issue of ELLE.
Hair by Sebastien Bascle for Calliste Agency; Makeup by Karim Rahman at Wise & Talented; Model: Jeanne Cadieu at Elite; Produced by Florent Norcereau for Sunny Day.

Lead image: Top, skirt, $2,100, Loewe.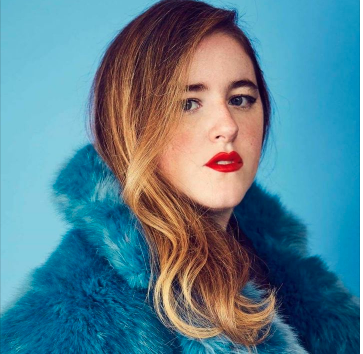 ELLE Fashion Features Director
Véronique Hyland is ELLE's Fashion Features Director and the author of the book Dress Code, which was selected as one of The New Yorker's Best Books of the Year. Her writing has previously appeared in The New York Times Magazine, The New Yorker, W, New York magazine, Harper's Bazaar, and Condé Nast Traveler.